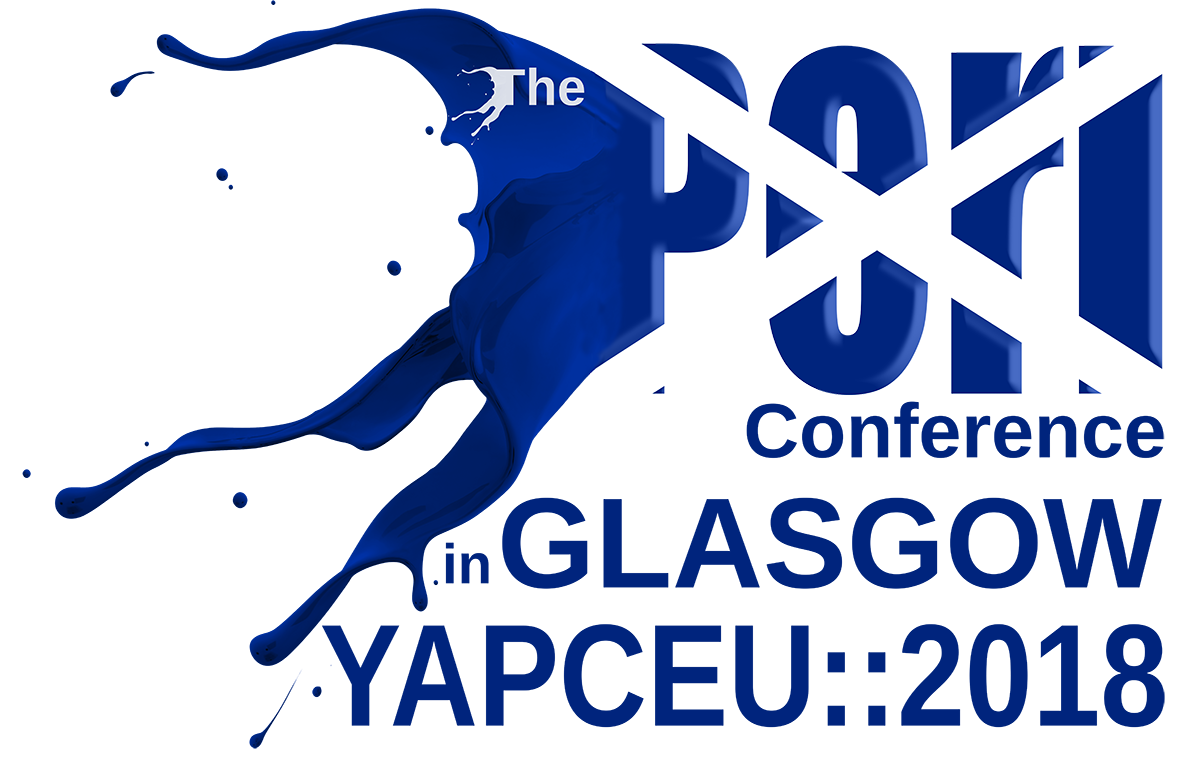 Perl Generations
The Studio
14th-17th August 2018
Welcome to Glasgow
The Studio, 14th-17 August 2018
Perl has been in the public domain for thirty years and 2018 is the thirty-first year, this marks a second generation. So what do we want to show from the first generation and first thirty years? What do the next thirty years of Perl look like? We invite you to think on this as you submit your talks but do not feel constrained by the theme.
The Perl Conference is an open and welcoming community event and as such we welcome submission on any subject. Do not feel imprisoned by a particular language. We welcome talks on other languages and technical matters relating to programming and software development, we also welcome community and infrastructure talks.
About The Perl Conference
The Perl Conference - which in the Perl community is usually referred to as Yet Another Perl Conference Europe (YAPC::EU) - is the annual meeting of Perl Mongers, developers, administrators, technical managers and interested parties in Europe. In 2018 the European Perl Conference will be held at The Studio in Glasgow between 13th-17th August.
YAPC started off as a series of grassroots user meetings, with discussions among Perl Mongers, and has grown from there. The very first OSCON grew out of the original Perl Conference. The focus is on enjoying the ideas of others, discovering new concepts, and feeling the enthusiasm of fellow programmers. Although our conference is devoted primarily to the Perl 5 and Perl 6 programming languages we appreciate and value discussions and submissions from other languages and technical disciplines.
Watch this space for updates, or check the feed.
Latest News
03/04/18
Sponsors Wanted
The Perl Conference in Glasgow is just 20 weeks away and we happy organisers have stepped up our panic mode to level four on the quivering-with-things scale. Today I would like to reach out and once again ask for sponsors to come join us at the event, have tables, stands and displays and if they would also like to contribute in other ways that would be excellent.
We have a sponsorship portfolio that is available to any sponsor who wants to be involved with the event but today I would like to mention the other ways you can sponsor. A good conference has fringe benefits, the chance to share your projects and passions, the chance to promote your business, project, group or organisation. The chance to become more involved with the community.
This year we would love to see organisations connected to Perl, and also not connected directly, come to our event and join in the fun. As a technical community we are not defined by one passion and nor should we constrain ourselves to it. Let us broaden our experience and let those who wish to display breadth come along and join us.
So if you know a project, organisation or group who want to be involved then point them at Rick or Mark. If you would like to sponsor the event in some fashion then contact us as soon as possible so we can work it out and get your idea into the public domain and move forwards.
Diversity Sponsorship
A particular passion for Mark this year is to have a greater diversity of speakers and attendees. The way to grow as a community and as individuals is by new experiences and change, that involves new people. Sometimes it involves encouraging those people who attend, or would like to attend, but stay in the background, too unsure.
I would like to invite companies to consider sponsoring a speaker from an under-represented group. How about finding a speaker, who may even be new to speaking, or not from our community and give them a chance to speak at our event.
Sponsor their attendance, get them to submit a talk. We will work with any organisation to help make this a possibility. Contact Mark to see discuss this further. To us this is just as good a reason to list you as a sponsor and to give your our heartfelt thanks.
27/03/18
TPCiG Workshops Wanted
There are fewer than twenty-one weeks to go until the Perl Conference in Glasgow starts and for most of us that is the time we start thinking about maybe submitting a talk, signing up to the event or looking at hotels. For a brave few it is time to start considering the Workshops?
Would you like to give a workshop at this year's TPCiG? Would you like to attend a workshop? There are already events listed on the website and we are looking for more workshops to truly round out this year's European Perl Conference. They need not be about Perl. The magnificent Dave Cross is doing a workshop on SEO (yes you heard that correctly) so flex your creative juices and submit.
There are limited workshop openings so submitting early with good levels of detail is an absolute must. Use the normal link to submit a presentation and choose your workshop length. You can always talk to Mark or Rick if you need more details or want some feedback.