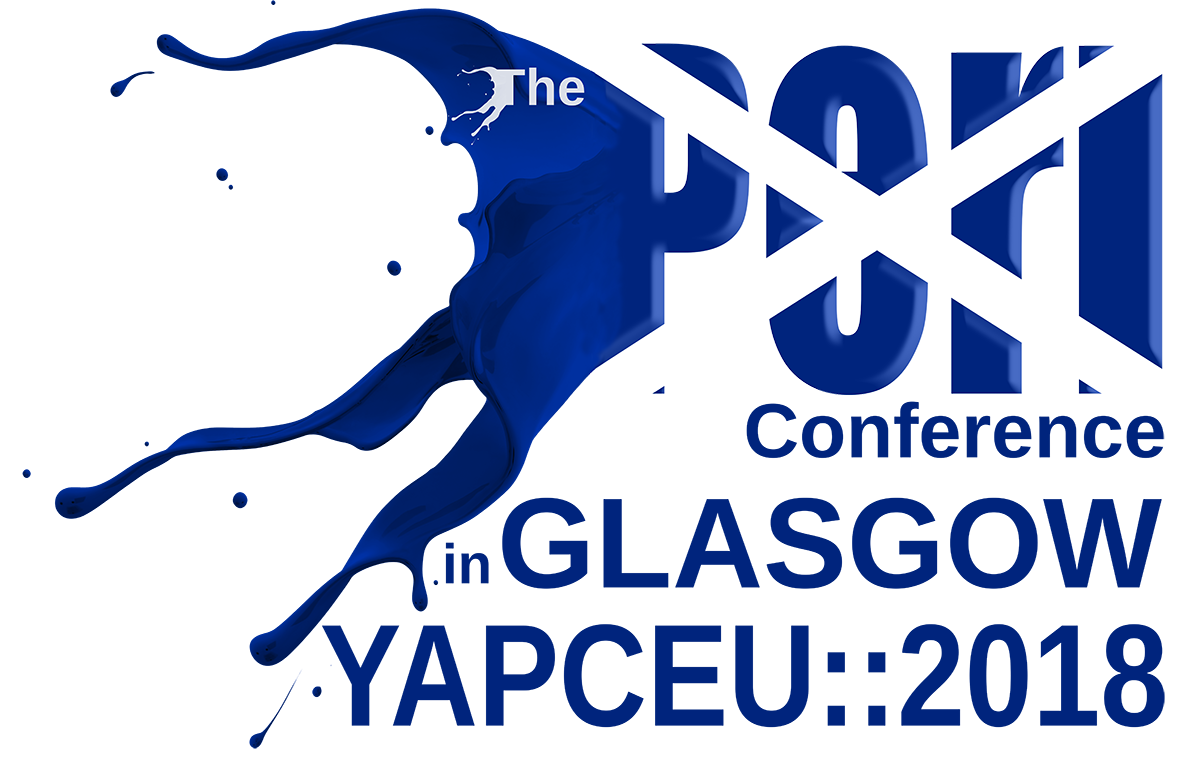 Welcome
to
Glasgow
Perl Generations
Perl has been in the public domain for thirty years and 2018 is the thirty-first year, this marks a second generation. So what do we want to show from the first generation and first thirty years? What do the next thirty years of Perl look like? We invite you to think on this as you submit your talks but do not feel constrained by the theme.
The Perl Conference is an open and welcoming community event and as such we welcome submission on any subject. Do not feel imprisoned by a particular language. We welcome talks on other languages and technical matters relating to programming and software development, we also welcome community and infrastructure talks.
About The Perl Conference
The Perl Conference - which in the Perl community is usually referred to as Yet Another Perl Conference Europe (YAPC::EU) - is the annual meeting of Perl Mongers, developers, administrators, technical managers and interested parties in Europe. In 2018 the European Perl Conference will be held at The Studio in Glasgow between 13th-17th August.
YAPC started off as a series of grassroots user meetings, with discussions among Perl Mongers, and has grown from there. The very first OSCON grew out of the original Perl Conference. The focus is on enjoying the ideas of others, discovering new concepts, and feeling the enthusiasm of fellow programmers. Although our conference is devoted primarily to the Perl 5 and Perl 6 programming languages we appreciate and value discussions and submissions from other languages and technical disciplines.
Watch this space for updates, or check the feed.
Latest News
17/12/17
Call for Volunteers
As many of you are aware the Perl Conference in Europe (Glasgow) will be held between 13th-17th August 2018. The website is already active and attracting both speakers and sponsors and the main organising team of Mark Keating and Rick Deller have been planning the general shape of the conference.
However, an event as large as this takes more than just two people and we are now seeking a team of others to help us with the event. This will be tasks from speaking to sponsors, speakers, event management, writing articles, social media management, general tasks that happen before the event.
We will also need technical and non-technical people to help with the many tasks at the conference. These are a range from making sure people know where to go and what talks are in what rooms, to setting up rooms, timing speakers, video help and a host of small tasks too numerous to mention here.
This is your chance to shine and to be part of an important event and a major contributor to the best community Perl conference. You can make a real difference in the community and be rewarded with thanks, limited edition swag and some other special gifts.
Contact Mark or Rick if you wish to express an interest or if you have experience and once again wish to take up the mantle. It is best, these days, to hit us up on Twitter at @shadowcat_mdk or @perlrick.
11/10/17
A Whole Day Perl 6 Tutorial for 2018
It is a great pleasure to announce that Jeff Goff will be giving a whole days tutorial on Perl 6 for the Perl Conference in Glasgow in 2018.
About the Course
Starting from one-liners like 'Hello, world!' Jeffrey explores all of the programming styles that Perl 6 has on offer, from basic procedural programming to object-oriented style, aspect-oriented, functional programming, and even logic programming. From the basics of sigils (the signs that so many scratch their heads over) and context, you'll banish lazy evaluation, march through infinite lists, and stalk the wild hyperoperators. Jeffrey introduces simple variables and user I/O by way of a guessing game.
After discussing variables and how they're affected by the context they're used in, Jeffrey delves into what's traditionally been the core of Perl: regular expressions. Starting with some simple matching tasks, Jeffrey explains how to parse what even Perl 5 regular expressions can't tackle with a custom grammar. This custom grammar helps teach you object orientation and aspect-oriented programming. You'll then build an interpreter with the help of some hyperoperators and use Perl 6 roles to construct both an interpreter and assembler inside Perl 6.
Jeffrey also discusses the community surrounding the language, how to find other programmers, and how to find and share your Perl 6 code.
You'll walk out of the tutorial with a solid grasp of the fundamentals of Perl 6 and an exposure to what lies beyond the world of basic scripting.
If you've heard about earlier seminars, please note this will have updated content, including sections on concurrency and parallel execution. The author keeps the content up-to-date and relevant to the ever-growing Perl 6 ecosystem.
Requirements
Materials or downloads needed in advance: Attendees should bring a laptop with at least 4GB of RAM and a working Perl 6 installation from either Docker (recommended for Mac or Linux), Rakudobrew (recommended on Linux, and what the instructor uses inside his VM), or the MSI installer on Windows.
Attendees should be familiar with at least one programming language (C, JavaScript, Python, Ruby, etc.). While object orientation will be discussed, you do not need to be familiar with this beforehand.
About Jeff
Jeff Goff is a well respected and recognisable member of the Perl and Perl 6 communities. He has been programming Perl for more years than he cares to admit and is employed as a senior perl developer at Good Data in the Czech Republic. Jeff is a contributor to the Perl 6 community and to Rakudo Perl. He has published a number of modules in both Perl 5 and Perl 6 and given numerous training courses in Perl 6 at conferences such as OSCON, FOSDEM, Perl Conference in Amsterdam and as part of O'Reilly Online.
Jeff is known as DrForr on irc and social networks and can regularly be found hanging out on the Perl 6 community web sites and social media groups.