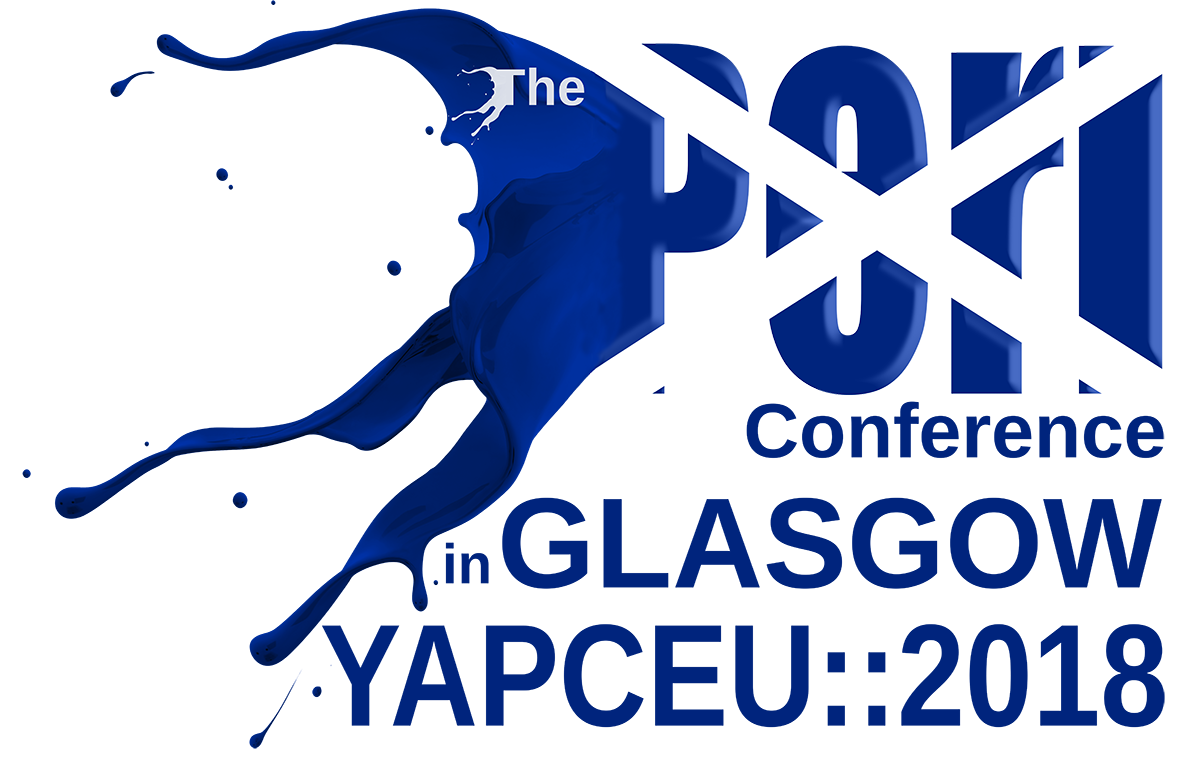 Perl Generations
The Studio
14th-17th August 2018
Welcome to Glasgow
The Studio, 14th-17 August 2018
Perl has been in the public domain for thirty years and 2018 is the thirty-first year, this marks a second generation. So what do we want to show from the first generation and first thirty years? What do the next thirty years of Perl look like? We invite you to think on this as you submit your talks but do not feel constrained by the theme.
The Perl Conference is an open and welcoming community event and as such we welcome submission on any subject. Do not feel imprisoned by a particular language. We welcome talks on other languages and technical matters relating to programming and software development, we also welcome community and infrastructure talks.
About The Perl Conference
The Perl Conference - which in the Perl community is usually referred to as Yet Another Perl Conference Europe (YAPC::EU) - is the annual meeting of Perl Mongers, developers, administrators, technical managers and interested parties in Europe. In 2018 the European Perl Conference will be held at The Studio in Glasgow between 13th-17th August.
YAPC started off as a series of grassroots user meetings, with discussions among Perl Mongers, and has grown from there. The very first OSCON grew out of the original Perl Conference. The focus is on enjoying the ideas of others, discovering new concepts, and feeling the enthusiasm of fellow programmers. Although our conference is devoted primarily to the Perl 5 and Perl 6 programming languages we appreciate and value discussions and submissions from other languages and technical disciplines.
Watch this space for updates, or check the feed.
Latest News
19/03/18
StickerYou And YAPC::EU
Not all the sponsorship that we receive for a conference is in the form of a monetary donation. Often an organisation or individuals provide patronage, or support, in time, people or products.
One such organisation is StickerYou.
We have great pleasure in announcing that we have partnered with StickerYou to provide some custom stickers and Floor Decals for this year's YAPC::EU in Glasgow.
StickerYou Inc. provides the best platform in the world to create custom products that make you stick!
We are passionate about providing you with the highest quality custom stickers, labels, decals, iron-ons, temporary tattoos and more. Our website is built with proprietary die-cut technology to help you create and order your products exactly as you need them. This means you can order any quantity (as little as one), in any size and shape you need.
StickerYou was founded in 2008 by Andrew Witkin, who was inspired during a walk on Los Angeles' Manhattan Beach when he noticed how stickers played a huge role in the local scene and culture but realized how expensive it was for individuals to create awesome die-cut stickers themselves.
StickerYou is based in beautiful Toronto, Canada.
08/03/18
Our Media Sponsors
It is a great pleasure to announce that cPanel will be the media sponsors for this year's European Perl Conference (TPCiG/YAPC::EU) in Glasgow.
cPanel have had a long association with the Perl community regularly attending and sponsoring events and activities. They host one of the most innovative and expert Perl teams on the planet and have created a world leading hosting platform that is used by millions of sites worldwide.
"It doesn't take a rocket scientist to realize that cPanel® is one of a kind. We like to think it's because of four qualities that are deeply ingrained in both our product and our people: Integrity, Respect, Collaboration, and Follow-Through."
About cPanel
cPanel & WHM is The Hosting Platform of Choice for web hosting automation. cPanel, Inc. writes and releases the software, to be perfect for any user. From the beginner to the advanced system administrator, cPanel & WHM provides the ideal platform for web hosting providers.
In 2017 we made it easier for application developers to use our software. In 2018 we're focused on making deployments to the most popular cloud providers as easy as possible.
cPanel is always on the lookout for talented, capable individuals. Spirited, intelligent, quirky, friendly, adventurous. These are just a few of the traits that cPanel employees bring to the table, but with all our varied skill sets and personalities, we defy labels.
We are a tight-knit team that consistently challenges and encourages one another. Best of all, we sincerely believe in the value of the work that we do. And with 20 years under our belts — we're not looking to slow down anytime soon.
It will be a great pleasure to see cPanel at the event in Glasgow and we are sure many of their team will not only attend but present at the conference.